The best part of a photoshoot for photographer Amy Thomas was watching people get ready. So after 15 years as a professional photographer, she shifted her focus away from photography and towards clothing, jewelry, make-up and accessories.
For a little over a year, Thomas ran an online clothing and accessories shop. In July of that year, she opened a brick and mortar retail store called Believe Inspire Beauty Clothing Boutique, 132 Uptown Drive.
Amy Thomas started out as a professional photographer but then moved on to own a clothing boutique dedicated to empowering women."We still loved seeing all the people and helping them prepare, so we kept that part," says Thomas.
Trying to be as inclusive as possible, the women's boutique is all about empowering women and supporting charities.
It fulfills its empowerment mission by offering a full line of casual wear in sizes from Small to 2X. Thomas is working on adding extra-small and 3X clothing. Believe Inspire Beauty also stocks accessories such as jewelry and makeup.
Empowerment also comes from supporting charities.
Thomas says the store raises money for a different charity every month. She has special t-shirts printed each month to sell, and a portion of the proceeds go to the charity of the month. Your goal is to raise at least $ 500 a month. In August she raised $ 1,000 for the Underground Railroad. The charity in September was suicide prevention and in October money will be raised for breast cancer awareness.
"We have a company that makes the special t-shirts just for charities," says Thomas, adding, "They're going to make a design for breast cancer."
Thomas says while breast cancer awareness is a national event, she prefers to donate to local charities when possible. She does the research to find just what you need. "We also talk to our customers, and whenever we can, we also link their personal story with the charity."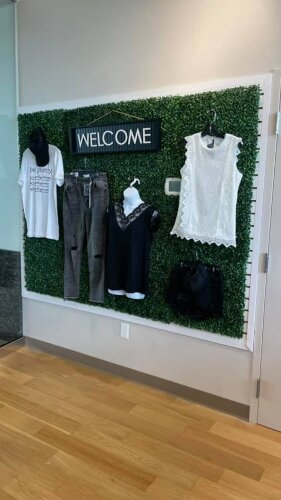 In the boutique you can find clothes for all body types.Supporting their neighboring businesses is also a priority, she says. Believe Inspire Beauty Clothing works with other companies in Uptown Bay City on special programs like the September style show Back to the Runway. The style show was a joint venture between Believe Inspire, Infinity Bridal and Omoni Boutique. She also plans to attend an upcoming Shop-a-Palooza involving companies from Uptown and Downtown Bay City.
Although much of the inventory is focused on women and women's empowerment, Thomas says her son Kole, 6, helped select part of the inventory. On the website, Kole's Kollection offers a little bit of everything, especially animal prints.
Thomas says the collection started because Kole cuddled with her when she ordered inventory at night and he wanted to help.
"It's his collection and he's always adding to it," she says.
First of all, he would choose an outfit or shirt every day. At some point it was enough for a collection. Now the collection includes clothes, nightwear and accessories.
"It is important for us that everyone in my family is there," says Thomas, who has photos of her daughter and two grandchildren modeling on the website. Your mother helps out in the store. "We are a family-oriented company," she says.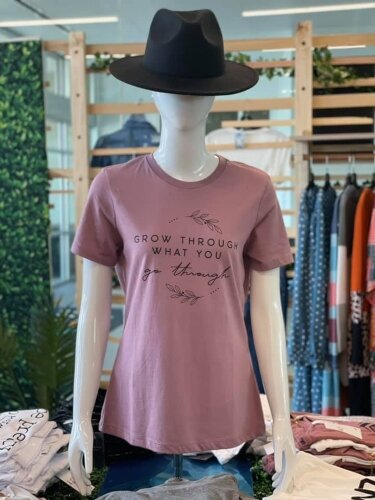 Every month the shop sells special t-shirts to raise money for a different charity.As she moved the business from an online boutique to a brick and mortar store, she says: "Me and my partner really set up everything here." This applies to everything from the cash register to the decoration.
"Part of our journey has been to turn all of the old wood we have into our storefront."
Not only did they repurpose pallets, but she said the countertop was once her grandparents' entertainment hub.
"That was really part of our story and part of our journey," she says. "That's how we came up with the name – Believe, Inspire, Beauty – to simply believe that beauty is all around us and to believe in yourself, that you are beautiful inside and out.